The Kinh house complex was inaugurated at the Viet Nam Museum of Ethnology Wednesday.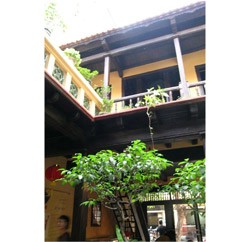 An old house in Ha Noi is restored
This is a living complex of a well-to-do family at the beginning of the 20th century, belonging to the branch of the Le Duy family in Tho Loc commune, Tho Xuan district, Thanh Hoa province.

The house has existed for 100 years so far.

In 2000, the Viet Nam Museum of Ethnology carried out a survey, collected, and restored that main house and asked a famous carpenter group of Dat Tai village, Hoang Ha commune, Hoang Hoa district, Thanh Hoa, whose ancestor built the main house in 1906 to undertake the restoration of the house.
In 2005 – 2006, the Museum continue to restore the rest, including the house for placing working implements (nhà ngang), dining-room, kitchen, rock-garden, cistern, deep well, buffalo stable, brick yard, and garden.

Along with the basic reproduction of the complex as it was in the beginning of the 20th century, the Viet Nam Museum of Ethnology will organize an exhibition of household utensils (in the kitchen), farming implements (in buffalo stable), tools of woodwork, and water puppetry.

In the future, special exhibitions of the Viet house will be changed regularly.
The restoration of the Kinh house complex is undertaken with the support from the Finnish Embassy in Viet Nam.