Asian superstar Rain arrived in Ho Chi Minh City Wednesday aboard a plane named "Rain's coming". Hundreds of Vietnamese fans turned out at the Tan Son Nhat airport to welcome him.
The pop singer and hip-hop dancer, also known as Bi, would hold a press conference and start rehearsals for the show Thursday.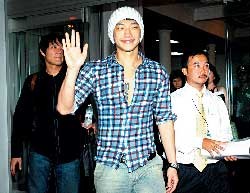 Korean Pop idol "Rain"
The monumental US$2.5million live show with 20 tons of lighting and sound equipment, will take place at the Military Zone 7 Sports Center. Bi will perform about 19 of his world-famous songs over the course of about 100 minutes.
Ticket prices range between VND 250 thousand and VND 2.5 million and are selling like hot cakes. A lot of Korean and Japanese fans are flocking to Viet Nam for the show because tickets are so cheap compared with prices back home.
The show in Viet Nam, organized by the D&D Company together with Korea's Enterone Corp., is one of 35 stops in the 6-month Rain World Tour 06-07 of Asian countries.