Phuoc Sang Studio and Korea's Bily Pictures will begin shooting the first joint Vietnamese-Korean production of a ghost-cum-mild-horror film on December 23.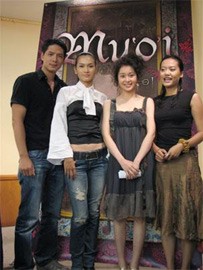 Actor Binh Minh and actresses Anh Thu, Joe An and Hong Anh
Directed by Kim Tae Kyong, who scored Korean-wide success with the film "Ghost" two years ago, "Muoi" will be shot on location in Korea and Ho Chi Minh City, Da Lat, Da Nang, Hoi An and Phan Thiet.
The plot revolves around a Korean writer (played by Joe An) who journeys to Viet Nam after her friend tells her about a love story set in Viet Nam and a troth pledged by a lady called Muoi.
As she uncovers the twisted tale, our heroine begins to sense the presence of a ghost, a girl also named Muoi, and encounters much mystery and danger.
The Vietnamese members of the cast will include Anh Thu, Hong Anh and Binh Minh.