Kylin-lion-dragon dance festival celebrating the New Year 2008 and the upcoming lunar New Year is taking place in Ho Chi Minh City and lasts until January 13.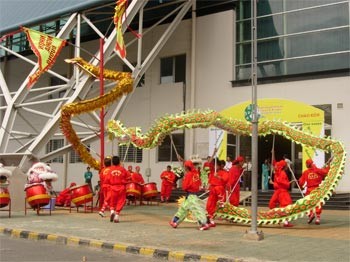 Kylin-lion-dragon dance.  (Photo:KK)
The event featuring 23 kylin-lion-dragon dance troupes throughout the city was organized at the cultural center of Ditsrict 5 on December 29 and 30, and to be held at Le Van Tam Park on January 5-6, and Hoang Van Thu Park on January 12-13.
The 5th HCMC Kylin-lion-dragon dance festival 2007 with participation of these troupes previously ended on December 22.The 6-day long event was an opportunity for introducing the Vietnamese traditional kind of art to the public.
More than 100 special items performed by over 1,000 artists have left a deep impression on around 15,000 visitors.