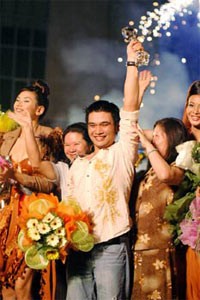 Winner Lam Hong Phuc
The "Invisibility" collection of 23-year-old Lam Hong Phuc, who has just graduated from a Malaysian fashion design school, has won first prize in the Viet Nam Collection Grand Prix 2006.

The title of "Promising Fashion Designer" went to Tran Linh Chi, 23, a fourth-year student in the industrial design faculty of Ha Noi Open University.
Other prizes and their winners:

- Junko Koshino Award: Tran Thi Thien Trang

- Fashion Designer of the Year: Le Thi Ha
- Best Overall Layout: Nguyen Minh Chau

- Best Idea: Dang The Huy

- Best Color: Nguyen Huu Nghia

- Best Material: Tran Bach Tung
The Viet Nam Collection Grand Prix is an annual contest for young fashion designers here and abroad and is organized by the Viet Nam National Textile and Garment Corporation, the Fashion Design Institute (Fadin) and Mot Viet Nam ( Viet Nam fashion ) magazine.
The 2006 final and awards presentation were held at Ha Noi's Quan Ngua Stadium on Sunday October 1.
Related article:
VietNam Collection Grandprix 2006 Starts