Lam Truong followed up his successful concerts in Ho Chi Minh City on March 23 and 24 by filling a small concert hall in Singapore on Monday.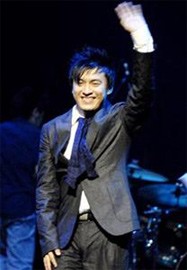 Pop star Lam Truong's concert held in Singapore on Monday attracts over 1,000 fans .
The 1,000-strong audience of mainly Vietnamese students erupted when their country's best-known pop singer appeared on stage at the Esplanade.
It seemed the fans could not get enough of Lam Truong's past hits like Hoa tim ngay xua (purple flowers in bygone days) and Anh sang cua doi toi (you are my light) or his latest numbers such as De tron doi thuong nho (for a lifetime of love sorrows), Dem co don (lonely night) and Doi giay vai (cotton shoes).
They also appreciated his pleasant disposition and his rapport with the crowd. His able support act was the Singapore pop star and actor Edmund Chen, who went down just as well with the audience.
Three days before the concert, Lam Truong met with Vietnamese students who are attending NangYang University of Technology, the Singapore Institute of Management and the National University of Singapore.
This year is Lam Truong's tenth as a professional musician and to celebrate the milestone he is putting on a series of concerts titled Chuyen hom qua (including the show in Singapore). The series concludes with a concert at Giang Vo Exhibition Center in Ha Noi on April 14.
Related articles:
Lam Truong to Perform his Concert in Singapore
Lam Truong's "Yester-Story"