Lam Truong, the popular Vietnamese pop singer, will perform his second live show "Yester-Story" at the Military Zone 7's Sporting Event Hall on two evenings, March 23 and 24. He is also scheduled to perform this program at the Esplanade Theatre in Singapore on April 2.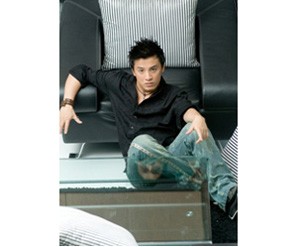 Pop singer Lam Truong
In his own words, Lam Truong's live show "Yester-Story" is an opportunity for him to relate to his audience through his 10-year path to stardom.
"By casting a look at yourself in the distant past you may realize how much you have changed." He said. He pointed out that the twenty five songs he has chosen for this live show would tell "a little of everything" about his yesteryears. He will perform a retrospective of songs including Mua phi truong (Rain at Airport), Got Hong (Pink heel), Tinh Phai (Faded love), Nguoi di xa mai (You're gone forever), all hits since the debut of his celebrated career to the present.
The live show will also include songs from his latest album, such as De tron doi thuong nho (For a lifetime of love sorrows) by composer Duc Tri, Dem co don (Lonely night) by Trung Kien, Kiep lu hanh (a journeyman's life) by Minh Chau, Doi giay vai (Cotton shoes) by Nguyen Hai Phong, Chieu vang (Yellow afternoon) by Tuong Van, De me (Ectasy) by Nguyen Van, and more. Additionally, Lam Truong will also perform songs he wrote himself, including Cho ban cho toi (For you for me), Cam bay (Trap), and the live show's namesake, Yester-Story.
There will be two guest singers taking part in his show, Le Quyen and Minh Thu, who will join Lam Truong for a song each. Truong said that he is fond of the voice and style of Le Quyen. As for Minh Thu, she has proven to be such a promising young singer, that her presence has nothing to do with being his niece. A dance group from Japan has also been invited to perform during his live show.
Lam Truong is performing at the Esplanade Theatre in Singapore for Vietnamese students there, despite the fact that the proceeds might not cover his expenses. The decision was made to keep a promise to the Vietnamese students he met at Singapore's SIM College during a show a few months ago to raise funds for the victims of Storm No.9 in Viet Nam.
Lam Truong said that it's not easy to perform at the Esplanade, a stage that has hosted many world famous celebrities. His company has to send his information to the theatre for prior scrutiny. He will bring 10 cameras to shoot the entire live show in Singapore with the hopes of turning the performance into a DVD. He is also excited at the prospect of joining Singaporean singer Truong Chi Tai in a Chinese song composed particularly for him by the Singaporean.
Lam Truong performed his first live show five years ago. Ever since, many other singers have followed suit with their own live shows, including those with dubious popularity. Lam Truong said that he carefully plans his live shows to treat the audience to something special.
Lam Truong now has a new look with longer hair and a slimmer body, at the request of the show's choreographer, Nguyen Quang Dung. Not to mention that his apparel is the work of fashion designer Cong Phuc. He revealed that he has been exercising to bring his weight down by 4 kgs. 
Lam Truong might look younger in this show, but he is in fact the new father of a cute child. Talking about this new development, Lam Truong proudly stated that he feels more mature in the responsibilities for his life and career. "My career as a singer will develop further with the active support of my own family." He said.