HCM CITY (VNS) — Twenty Indian Buddhist lamas performed hours-long sacred Buddhist dances and chants at the Vinh Nghiem Pagoda on Saturday morning as a week-long Buddhist Festival began in HCM City.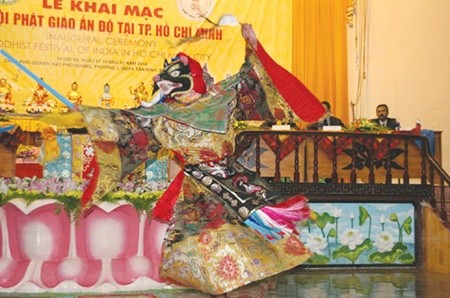 Indian Lamas from the Himalayas perform sacred Buddhist dances at the Pho Quang Pagoda in HCM City to mark the opening of a Buddhist Festival as part of the Festival of India in Viet Nam. — VNS Photo Van Dat
The lamas, who are from the Himalayan region, had performed similar rituals at the Pho Quang Pagoda the previous day on March 7 in front of 1,000 local Buddhists, Indian expatriates, and HCM City and Buddhist Sangha officials.
The festival has featured a series of exhibitions and activities popularising Buddhism's messages of non-violence and truth.
At the opening ceremony, India's Deputy Minister of Culture Ravindra Singh said cultural exchanges between the two countries began a long time ago since the advent of Buddhism in Viet Nam, and the relationship has continued until today.
He hoped the friendship would grow stronger through the festival since Buddhism is a shared cultural heritage of India and Viet Nam.
The Most Venerable Thich Tri Quang, deputy chairman of the Viet Nam Buddhist Sangha and head of the Sangha's HCM City chapter, said the festival would help strengthen the relationship and mutual understanding between the two peoples.
Le Manh Ha, vice chairman of the HCM City People's Committee, said Buddhism became part of the city people's spiritual life more than 300 years ago when Sai Gon – Gia Dinh was founded. HCM City now has more than 1,500 pagodas, which contribute much to the city's socio-cultural development, he added.
The Buddhist Festival is part of the Festival of India in Viet Nam being held from March 5 to 15 to promote cultural linkages between the two countries.
It is being organised by the Indian Ministry of Culture and embassy in Ha Noi together with Viet Nam's Ministry of Culture, Sports and Tourism.
The event will also feature a mosaic of Indian classical dances showcasing the six major traditions of Bharatanatyam, Kathak, Kathakali, Odissi, Manipuri, and Chhau.
An experienced Indian dance troupe, which already performed in Ha Noi, will also perform in Da Nang, where too the festival is underway. In Da Nang, it will be tomorrow and in HCM City on March 14 and 15.
Two yoga teachers from India will give lectures and demonstrations in HCM City from March 11 to 15 at the HCM City Union of Friendship Organisations.