A concert celebrating the 10th anniversary of the Lan Song Xanh (Green Wave) Music Award 2007 and honoring singers and musicians who have made outstanding contributions to Vietnamese music took place in Ho Chi Minh City yesterday.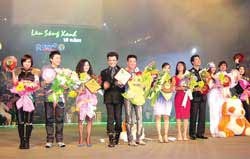 Top ten singers of the Lan Song Xanh Music Award.
More than retro 70 singers, musicians and bands gathered in the Lan Anh Music Venue to sing and play retrospective hits. They also received badges from the organizer for their participation over the last decade.
Winners of the "Most Favored Musician" awards included Hoai An, Vo Thien Thanh, Le Quang, Minh Vy, Nguyen Nhat Huy, Vu Quoc Viet, Quoc An, Duong Thu, Duc Tri and Duy Manh.

Top ten singers at the awards were Thanh Lam, My Tam, Lam Truong, Dan Truong, Cam Ly, Hong Nhung, Quang Dung, Ho Quynh Huong, Tuan Hung and Quang Linh.

Special awards for Guong mat thanh tuu (Achievement) were taken by pop stars Dam Vinh Hung and Phuong Thanh.

Other awards, including Most Favored Band, Most Effective Sound-Mixing Musician and Best Studio respectively went to the MTV band, Le Quang and Viet Tan.

Launched in 1997 by the Radio Voice of Ho Chi Minh City, the Lan Song Xanh (Green Wave) Music Award is one of the nation's biggest music contests.



Related article:
Quartet of Ladies Rules Lan Song Xanh 2007 Music Awards