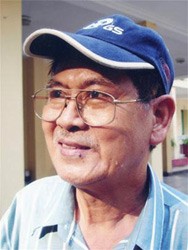 Writer Le Van Thao
Thailand's royal family has invited Le Van Thao to visit Bangkok and receive the 2006 ASEAN Award for Literature for his book Con Giong (the squall). The Vietnamese author's most successful book yet, which won the 2003 A prize from the Vietnamese Writers Association, was released by Tre Publishing House in 2002 and reprinted by the Vietnamese Writers Association Publishing House in 2006.
"Many years after the war, the main character of Con Giong is adrift on a river, looking for his roots and wishing for a beautiful love and a kind-hearted and altruistic life", the writer said.
His writing style is not rigid nor does he subscribe to dogma or political commentary. His writings are short stories full of love and its problems, and the hidden corners of the mind.
Le Van Thao was born in Long An, South Viet Nam, in 1939 and was a guerilla fighter in the war. His published novels include Chuyen nho tinh yeu (small love story), Con duong xuyen rung (inter-forest road) and Ong ca Ho (man who hunts Ho fish). Among them, Ong ca Ho was turned into a film.