The program of the legendary itinerary on moving capital entitled "Following the trail of ancestors" is one of the activities which will open the Grand Celebration of the 1,000th anniversary of Thang Long – Hanoi.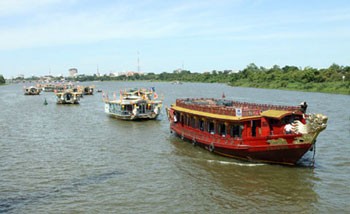 The itinerary through prvinces including Ninh Binh, Nam Dinh and Hung Yen will take place from September 30 to October 2.  (Photo: Vnexpress)
The legendary itinerary to take place from September 30 to October 2 will bring people back to the old days when King Ly Thai To, the founder of the first lasting national dynasty (Ly), decided to transfer the old capital at Hoa Lư to Thăng Long, the present capital, in 1010.

Accordingly, an incense-offering ceremony to pay tribute to ancestors and a 60-minute art performance depicting the enthronement of King Ly Cong Uan (also known as Ly Thai To) will be held at the temple of Dinh and Le Kings in the province of Ninh Binh on September 30.

Another incense-offering ceremony and an announcement of the royal proclamation on moving capital will take place at the temple in the early morning of October 1.

The King's dragon boat will be accompanied by a fleet of 10 ships which are designed in an ancient style.

A series of cultural activities including a food fair, royal dance and music performances, screenings of documentary films of Hoa Lu historical site, Hanoi and more will be organized on the boats during the route.

Visitors will wear costumes of the historical period to take part in the event.

After making a landfall in the evening in Hung Yen Province, the delegation will take part in a festival titled "Hung Yen in the thousand year current of time" in the center of Hung Yen City.

The fleet will arrive in the capital and thurify at the Thang Long Royal Citadel on October 2.

More than 500 artists, singers and dancers together with thousands of local people will participate in the program, said Meritorious Artist Thuy Mui, director of Hanoi Cheo (traditional operetta) Theater and director general of the program.