A live program for Truong Son Road – Ho Chi Minh Trail was broadcast on HTV9 on May 19 to mark the 50th anniversary of the legendary road and the 119th birthday of late President Ho Chi Minh.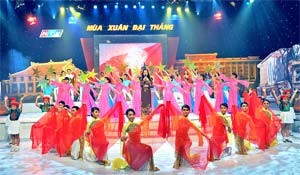 An art troupe performs "Duong toi dinh vinh quang" (Road to the top of glory) at the Ho Chi Minh Television Station's Stadium on May 19 to mark the 50th anniversary of Truong Son road (Photo: SGGP)
It was televised simultaneously from three venues – the Ho Chi Minh mausoleum in Hanoi, 17/3 Square in the Central Highlands province of Gia Lai, and the Ho Chi Minh Television Station's Theatre in HCMC. 
Lt Gen Dong Sy Nguyen, Major General Vo Bam, Major General Phung Dinh Am, Major General Phan Khac Hy, and Hero of People's Armed Forces Ho A Nun spoke, touching the hearts of the young generation and helping them understand how work to build the Truong Son Road progressed and its important role in the history of Vietnam.  
The Road also symbolized the union of the three Indochina countries, Vietnam, Laos, and Cambodia, during the Vietnam War (1959-1975).  
Immortal songs about the fighting spirit of the Vietnamese were sung on the show, including Giai phong mien Nam (Liberate the south), Tieng hat nhung dem khong ngu (Singing in the sleepless night), Bai ca Truong Son (Truong Son song), Gap nhau tren dinh Truong Son (Meet each other on the top of Truong Son mountain) and Buoc chan tren day Truong Son (Footsteps on Truong Son mountain).