Ho Chi Minh City Television debuts its first TV series in the Year of the Ox. 'Cuoc Phieu Luu Cua Hai Lua' ('The Adventure of Hai Lua') will be aired 10.30 pm February 15 on HTV9.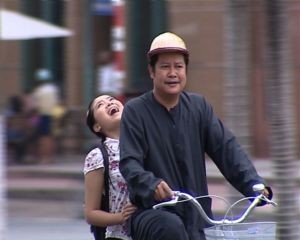 A scene from 'Cuoc Phieu Luu Cua Hai Lua' – Hai Lua gives his daughter Sau Nhu a lift (Photo: World Star Courtesy)
The 35-episode comedy series will be broadcast four days per week, Thursday to Sunday.  
The series revolves around the character Hai Lua, played by Thanh Nam, a good-natured farmer in a peaceful countryside area of Vietnam. Lua's peaceful life suddenly becomes a mess when an industrial zone is built in his area.  
Lua receives compensation for his land and starts to plan some businesses which he believes will help improve his living standard. 
Hai Lua's dreams of making it rich also impacts on his relatives and neighbors lives as they follow him in his get-rich-quick schemes.  
The series is a comeback for the popular comedian Xuan Huong after taking a long break from acting. Xuan Huong plays Tu Mang, Hai Lua's wife.  
The series also introduces the young talent of Duy Phuoc, son of the popular comedian Duy Phuong, in the role of Tam Dang, one of Hai Lua's two sons.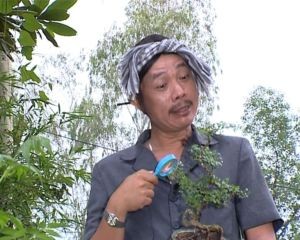 Comedian Trung Dan will add comedy spice to the series (Photo: World Star Courtesy)
Laughs are also brought by two other popular comedians Trung Dan, as Ba Doi, and Tan Hoang, as Tu Ech, both neighbors of Hai Lua.  
The concept of the series is that the wealth is not earned by luck and quick money but only by hard work.  
This work is a collaboration of script writer Nguyen Minh Chi and film director Ho Ngoc Sum with support from the producer, World Star Communication JSC.