Cuban band Luna Negra have arrived in Ho Chi Minh City, starting a prolonged stay at the Caravelle Hotel where they perform daily except Tuesdays.

The six-member band, two women and four men, have brought the Latin beat with them from their home town of Matanzas. They perform salsa, bachata, merenegue and other styles. Also among what they play is what critics call a new twist on the classic Cuban sound.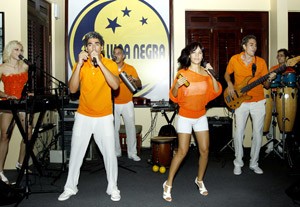 Luna Negra play at Saigon Saigon Bar (Photo: Thuy Nguyen)
Keyboard, violin, electronic guitar, unplugged drum and some other acoustic instruments are what they use to perform, in an orange color they wear.
Luna Negra say they gain fans throughout Spain, Italy, China and Venezuela.
Caravelle Hotel general manager John Gardner says, "They know how to have fun and they've got a lot of live experience under their belts despite being so young."
Luna Negra perform from 9 pm until midnight at open air Saigon Saigon Bar on the 9th floor, where sees cool breezes all the time.