Mai Phuong Thuy, 18, a new student of Ha Noi Foreign Trade University who received the greatest number of votes from the public, was crowned at the national final Miss Viet Nam 2006. The 1st Runner-Up went to Luu Bao Anh, 24, student of University of Social Sciences and Humanities of Ho Chi Minh City, and the 2nd Runner-Up Luong Thi Ngoc Lan, 21, student of Ho Chi Minh City University of Foreign Languages and Information Technology.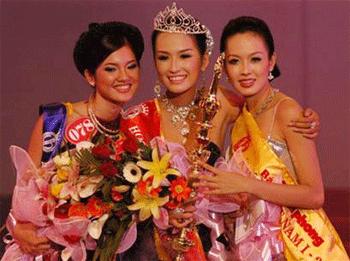 Miss Viet Nam 2006 Mai Phuong Thuy, 1st runner-up Luu Bao Anh (R) and the second Luong Thi Ngoc Lan (L)
The minor titles of Miss Photo, Miss Sea, Miss Sport and Miss Friendliness went respectively to Cao Thanh Hang, Hoang Le Trang, Dam Thi Ly and K'The.

Miss Viet Nam 2006 will receive VND80 million in cash and a trip to Japan, the 1st runner-up VND60 million plus a trip to Japan, and the second runner-up VND40 million.
The beauty contest evening with 34 contestants lasted more than three hours and consisted of performances of Ao-dai (Vietnamese traditional dress), bikinis, the evening dress, and quizzes on personalities and character.

Besides, there were exciting art performances with such famous singers as Quang Dung, My Tam,Thu Minh, the AC&M band and local art troupes. A special event was the performance of Nguyen Dieu Hoa- Miss Viet Nam 1990, Nguyen Thu Thuy-Miss Viet Nam 1994, Nguyen Ngoc Khanh-Miss Viet Nam 1998, Pham Mai Phuong-Miss Viet Nam 2002 and Nguyen Thi Huyen-Miss Viet Nam 2004, who sang together the "Loi Trai Tim Muon Noi" (What My Heart Wants to Say) composed by musician Le Huu Ha to welcome Miss Viet Nam 2006 contest.
Related articles:
Miss Viet Nam Adopts World's Best Practice
Miss Viet Nam Final Gets Underway At Island Resort
Over 3,000 Beauties Join Miss Viet Nam 2006 Contest