The Malaysian Philharmonic Orchestra will perform in Ho Chi Minh City and Hanoi from October 31 to November 3, to mark the 40th anniversary of diplomatic relations between Vietnam and Malaysia.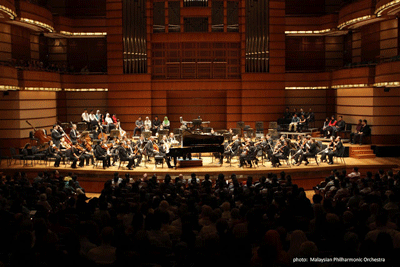 Tengku Irfan with Maestro Claus Peter Flor & Malaysian Philharmonic OrchestraSeason Opening Gala Concert 2009 (Photo: http://tengkuahmadirfan.blogspot.com/)
This is an opportunity for Vietnamese audience to enjoy the well-known symphony orchestra which will be attended by 83 artists from 25 countries under the baton of German conductor Claus Peter Flor, and also Vice Director of the Philharmonic Orchestra. Claus Peter Flor has in the past worked with other well-known orchestras from Germany, France, Britain, Italy and Japan.
The program will also be attended by 15-year-old talented Malaysian pianist Tengku Ahmad Irfan, who is known as a musical idol in Malaysia. He is good at both piano and in composing songs. Recently, he has won first prize at the Prokofiev Aspen Festival. He also won both Morton Gould Young Composer Award and Charlotte Bergen Award in 2012.
The Malaysian Philharmonic Orchestra often performs in Kuala Lumpur in Malaysia. The orchestra was established 15 years back and has worked with famous musical brands like Vox, BIS and Naxos to release17 CD's. During 2009 and 2010, the orchestra collaborated with local film studio Kru Studios to produced the soundtrack of the film Hikayat Merong Mahawangsa . This year, the orchestra will release a new album, which will include Malaysian folk songs.
As per schedule, the Malaysian Philharmonic Orchestra will perform in HCMC at the Opera House on October 31 and at the Colette Secondary School on October 29. On November 3, the orchestra will perform at the Opera House and a secondary school in Hanoi.