The 'Golden Disc Award 2008' finally found its winners for the title 'Golden disc of the year' at the closing ceremony at Hoa Binh Theatre, district 10, February 9.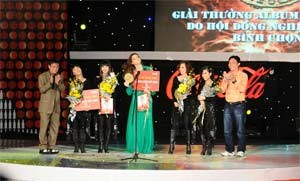 Ho Ngoc Ha recieves the 'Best album' award (Photo: Cat Tien Sa Courtesy)
The category 'Most popular album,' voted for by fans greeted the victory of two male representatives of the V-showbiz, Dam Vinh Hung for his album 'Qua Con Me' (After the dream') and Dan Truong for his album 'Thap nhi my nhan' ('Twelve beauties')
 
'Best albums,' voted for by a jury of music critics, honored the beautiful Ho Ngoc Ha and the '5 Dong Ke' ('Five-line music') girlband and their works: 'Khi ta yeu nhau' ('When we fall in love'); and 'Canh mat troi' ('Wings of the sun') respectively
 
The award-winning album 'Khi ta yeu nhau' by Ho Ngoc Ha first impressed listeners with its pink cover and image of the modern girls. The composer Le Quang, a member of the jury' complimented, "The album has a good mix. The cover is fabulous with the bright pink. Thanks to this color, the album at first raises some bright hopes in the mind of the listeners before they try to listen it."
 
Meanwhile, the album 'Canh mat troi' by 5 Dong Ke impressed audiences with its classical sound, not only the melodies but also the mix, mostly New Age and acoustic. The composition for background vocals follows the theatrics of Broadway to make the sound more impressive.
 
The album 'Thap nhi my nhan', by Dan Truong, is a collection of his collaborations with twelve female singers like My Tam, Phuong Thanh, Ho Ngoc Ha, Huong Lan, Phi Nhung, Thanh Lam, Thanh Thao and Lan Chau. The album consists of various genres, from folk to modern music.

The album 'Qua con me', by Dam Vinh Hung, is a collection of 18 immortal songs by various popular artistes, such as Lam Phuong, Minh Ky – Da Cam, Thanh Tran Tran Thi and To Thanh Tung. The songs were remade with the new modern mix but still reminded listeners of the past.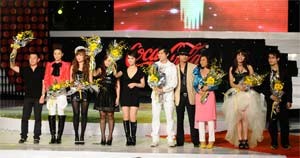 Top 10 (Photo: Cat Tien Sa Courtesy)
The Top 10 albums of 2008 are: 'Am ban' ('Negative') by Doan Trang, 'Sang mua' ('When a new season comes') by Phuong Thanh, 'Luc moi yeu' ('First time of love') by Phuong Vy, '360.hanoi.nk' by Ngoc Khue, 'Mai Khoi hay hoa hong' ('Mai Khoi or rose') by Mai Khoi, 'Vien keo moi' ('New candy') by Thu Thuy, 'Ca phe sang' ('Morning coffee') by Ha Anh Tuan, 'Hay noi anh yeu em' ('Say you love me') by Tra My, 'Mat khau…Noi mang tinh yeu' ('Password…Internet love') by Nguyen Vu and 'I do' by Thu Minh
 
The 'Golden Disc Award' is held monthly by Ho Chi Minh Television and Cat Tien Sa, sponsored by Coca-Cola, to find two top musicians each month. The monthly winners will be nominated for the 'Golden Disc of the Year'.