Michelin-star Chef Jerome Brochot from France, a world-renowned cook, has arrived in Ho Chi Minh City for a five-day culinary class featuring favorite dishes from his restaurant in Montceau-les-Mines.
Brochot, 34, Chef of "Le France" restaurant in Montceau, is serving a course in cutting-edge Gallic cuisine with a Burgundy-inspired menu at the five-star hotel Caravelle Saigon from August 8 to 12.
During a short class Monday, the Michelin-star Chef cooked three dishes for 20 people, serving them with Guinea fowl, beef tenderloin and quercy-style lamb rack.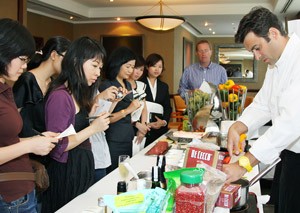 French Chef Jerome Brochot (R) performs in his cooking class at the Caravelle Hotel on August 8, 2011
The guinea fowl was glazed with its juices, spiced guinea fowl meat sausage, with crunchy green asparagus and beans.
The dish was followed with beef tenderloin, butter-search with duck liver and bone marrow, with pan juice drizzled macaroni gratin.
The short class ended with quercy-style lamb rack and loin on garlic comfit, with sweet pepper stew pastille.

The lesson was priced at VND 980,000 and included Taittinger Champagne, a light tasting menu and desserts.
For five nights, Monday till Friday, at the Caravelle's Reflections Restaurant, the Chef offers a French menu and two set menus of favorite dishes from his restaurant in France.