A new film studio will be built at a cost of more than US$1 million outside Ha Noi, the Viet Nam Feature Film Studio has announced.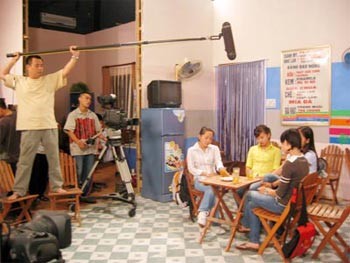 "Vang Anh's diary" teenage film is shooting at the Viet Nam Feature Film Studio.
The filmmaker's director, People's Artist Khai Hung, says the project is being funded by Mesa Asia Pacific Trading Services Company Ltd.
The new studio, whose location 40 kilometers from the center of Ha Noi will make it easier to film outdoor scenes, will be used to make mainly sitcoms, Hung added.
It's the third new studio to be announced in the past eight months. Last August, a consortium of Vifa Film Company, CJ Media Productions of South Korea, the Ho Chi Minh City Choice Center, and the Ho Chi Minh City Cinema and Theatre College announced their plans to invest more than VND10 billion to build a film studio in districts 2 and 9 of Ho Chi Minh City.

Then in January, the developer of Tan Tao Industrial Park, Itaco, gained an investment license for the US$50-million Vina Universal Studio and Resort in Duc Pho District in the central province of Quang Ngai.