Miss Phan Thi Ngoc Diem of Khanh Hoa Province, currently an undergraduate at the Foreign Trade University, was named Miss Tourism 2008.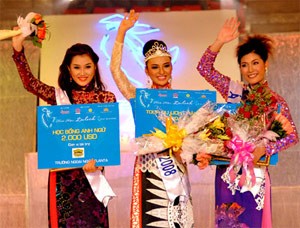 Nguyen Minh Ngoc Tram (L), Phan Thi Ngoc Diem (M) and Nguyen Thi Phuong Thao (R)
Miss Ngoc Diem received prizes worth VND100 million (US$5,900), including a scholarship worth VND34 million (US$2,000) for an English course at the Language Center Atlanta and a cash award of VND66 million (US$3,900).
In addition, the contest will provide her with a package tour to Europe.
Miss Ngoc Diem will be the Vietnamese representative in the international Miss Tourism to be hosted next year by Viet Nam.
Runner up was Miss Nguyen Ngoc Minh Tram, a third-year student of the College of Foreign Economic Relations. Miss Nguyen Thi Phuong Thao, a manager's assistant at the Thu Hoai Fashion Company, was awarded third place.
The stage director accomplished his mission to present a beautiful four-side stage allowing audiences to have a better view and more surprises with charming performances of contestants in three areas: ao dai (Vietnamese dress), swimwear and evening gown.
Miss Nguy Thanh Lan, a model of the A Dong Model Company, was named "Favorite Contestant" by viewers who voted via a hotline.
Behind the stage: Unforgettable memories
   - In a shooting at the Cai Rang Floating Market of Can Tho, the beautiful charms of the market cannot help the contestants relieve their stress while sitting on small junks. Though they keep smiling for the camera, many candidates could not hide their fears and sometimes screamed when the junk shook.

   - As the make-up started so early, some contestants were asleep during the make-up session. The make up artist could not put mascara on their eyelashes when their eyes were closed for sleeping.

   - For 5s appearances on trailer, the candidates had to react at least five times in a shooting of 3-5 minutes. A few girls had to react over ten times for a two-second take in which they had to glide past the camera.

   - In a volley ball take filmed on the beach of Nha Trang, a volunteer contestant, My An, regretted her decision to volunteer to perform the fall. When the director asked her to act more real, An tried to fall so that it would really hurt. However, the director took at least 20 retakes. As a result, An was hurt in many place and was absent from the next filming. 

   - While being trained on stage before for the semi-final in Ho Chi Minh City, a candidate slipped due after having trouble with her six-inch high heels. The slip reappeared in the official semi-final when another candidate, Quynh Thu received her award "The Most Favorite Candidate" voted by the viewers.

   - "Sometimes life is a beautiful rose, sometimes it's not," confided Tuong Vy after being announced to be out of Top 20 to appear in the final. According to Vy, her greatest regret is that she cannot keep moving on with her very close friend, Tuyet My in the final round. "I will cry later but not now, I do not dare to let everybody know how weak I am"