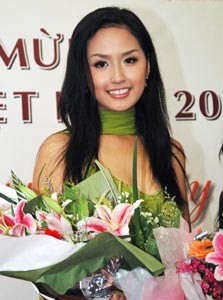 Mai Phuong Thuy is welcomed with flowers at the press conference

Coming back from the Miss World 2006 on Thursday, Miss Viet Nam 2006 Mai Phuong Thuy, who was among the top 17 of the contest appeared at a press conference. She told about her difficulties at the pageant and experiences that she learned from this contest. Besides, Thuy expressed her great sympathy for the Xangsane storm's victims

Reporter (R):
Domestic audiences have great expectations of your outstanding height of 1, 79 meters. It is said that you've lost credits because you did not take part in the minor titles, is it right?
Mai Phuong Thuy (MPT): In fact, some candidates who won the minor titles were not chosen for the top 17. Anyhow, it is a regret that I could not take part in the Talent final. I did a lot of practice for a traditional dance of Viet Nam, but I lost my luggage, including the outfit and CD for this final. Then, fashion designer Viet Hung gave me another CD but it was faulty.

However, because of this problem, the organizing board allowed me to wear the national dress of ao dai (Vietnamese traditional dress) instead of dinner dress. So I had another opportunity to introduce ao dai to the world and received praise from the public.

Thanks to the support of the Vietnamese people in and out of the country, I was chosen among the top 17. It is really a great encouragement to me.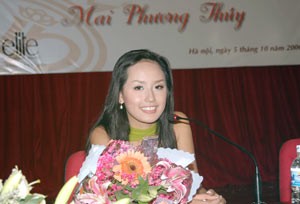 Miss Viet Nam 2006 at the press conference
R
: What preparations are needed to win the next contest?
MPT: Vietnamese beauty can compete with the world beauties. The big problems are experience and time. Although we tried to organize Miss Viet Nam 2006 in August instead of December, we had too little time to prepare for and learn about the competition.
R: What are your forthcoming plans?
MPT: In the last days of the contest, I heard about the destructive typhoon Xangsane destroying the central coast. I will come there tomorrow to help comfort the victims.
I worked out plans of charitable affairs to help the poor in the coming time. The ao dai that I wore in the final night will be sold at an auction to raise funds for charity.