Miss Viet Nam participants arrived at the Nam Hai resort in Hoi An today to vie for the Miss Sea crown.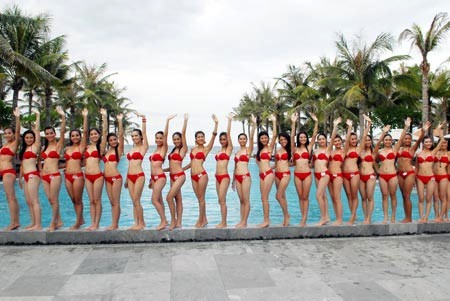 Miss Viet Nam 2008 contestants in the Miss Sea competition.
The beautiful young women were barely on their feet after a visit yesterday in blazing sunshine to My Son Sanctuary, a world heritage site and a center for spirituality and worship Cham people a millennium ago.
They were accompanied by the 2006 Miss Viet Nam, Mai Phuong Thuy.
Miss Viet Nam will get a cash prize from the organization board and health insurance coverage for two years worth an annual VND3 billion (US$187,500) of the BIDV Insurance Company of the Bank for Investment and Development of Viet Nam. The first and second runners-up will get a VND1 billion coverage for one year.
Miss Viet Nam can also fly free and as often as she likes on Pacific Airlines, on both local and international routes, for two years.
The bank will have special gifts for contestants giving the best answers at the pageant and getting the largest number of votes online.
The shoot for the competition has attracted hundreds of visitors.

Related articles:
Miss Viet Nam 2008 to be ambassador of the poor
Thirty Beauties to Vie for Miss Viet Nam Title