Miss Viet Nam 2006 Mai Phuong Thuy has revealed she will display nearly 100 photos of herself posing nude "in keeping with Vietnamese culture and tradition" but is discreet regarding to what extent her nudity goes.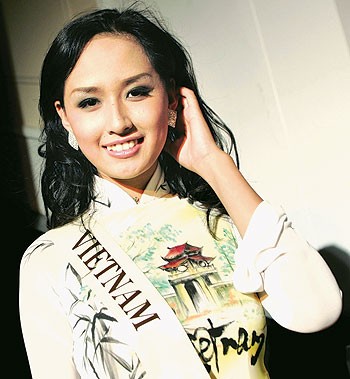 "If sexy is within accepted boundaries and has beautiful values, why not?", Miss Viet Nam 2006 told the press
The nudity captured is "very Vietnamese and nothing extreme", the 20-year-old beauty who entered the top 16 at Miss World Pageant 2006 said.
"This is not totally nude…just artistic photography"
Thuy, the tallest Miss Viet Nam so far at 1.79m, said she has already finished some of the photos taken by photographers Tran Huy Hoan and Le Thanh Hai, featuring herself in various positions inside the studio and outdoor.
However, she declined to reveal the exhibition's exact date.
"Everyone has their own opinion [on aesthetics]…I chose for myself a way to express the sensuousness typical of Viet Nam (sic)".
"If sexy is within accepted boundaries and has beautiful values, why not?", she added.
She said she has already had her targeted audience in mind for this nude collection but prefers to keep it a secret.
Just several days ago, Thuy exhibited a photo book of a different nature, this time featuring herself dressed in tuong (traditional drama) costumes, meaning she is completely covered in long gowns, long sleeves, and masks, not to mention her colorfully painted face.
Just like the tuong exhibition, this [nude one] would serve a purpose…who knows it could help me stay in people's hearts longer?
As scheduled, Thuy will end her mission as Miss Viet Nam to hand over the crown to her successor - Miss Viet Nam 2008 - late this month.
According to Thuy, she is doing her best to introduce Vietnamese culture and its beauty to the world to promote her country's image on the international arena while at the same time seeking fund to finance her multiple social and charity activities.
However, it is not clear whether the nude exhibition in question has been approved by any state agency or not.
Late last year, Viet Nam published for the first time a nude photo book entitled "Xuan thi" (Spring Time), a collection of 71 nude photos by Thai Phien following heated debates by authorities. But in the Southeast Asian country where Confucianism still holds sway, nude photography continues to be frowned upon.