Luu Thi Diem Huong, Miss Vietnam World 2010 will join 1,000 volunteers in a walk across 16 cities and provinces from July 2 to August 12.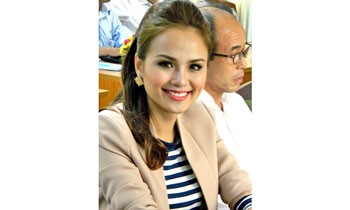 Miss Vietnam World 2010, Diem Huong (Photo: Vnexpress).
The walk entitled "From Sen (lotus) village to Nha Rong Wharf" aims to celebrate the 100th anniversary of the day President Ho Chi Minh left Vietnam to seek ways to liberate the country and 50 years since the 'Agent Orange' disaster in Vietnam.
The 1,500km walk will begin in Hanoi, pass through Nghe An and end in Ho Chi Minh City.
Celebrities like  musician Nguyen Cuong, Miss Vietnam 2006 Mai Phuong Thuy, model Truong Chi Truc Diem, Miss Vietnam 2010 Ngoc Han, actors Quyen Linh, Xuan Bac, Tu Long and MC Thanh Bach will also participate in the event.
The oldest participant is 78 year old Mrs. Huynh Thi Kieu Mien. Mrs. Huynh Thi Kieu Thu, 60, a cancer patient who rode a bicycle across Vietnam will also join the walk.
The volunteers will take part in programs like the walk for environment, bicycle parade for safe traffic, charity musical shows to raise funds for Agent Orange victims and scholarships for disadvantaged students during the course of the walk across the country.