A "Month of Vietnamese Films in France" is all set to start at the Vietnamese Cultural Center and Pleiade - Cachan in Paris on May 21.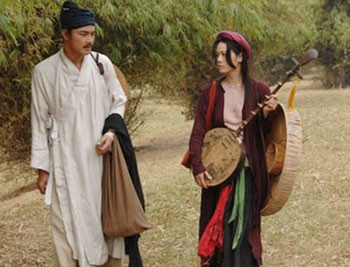 Actor Ngoc Ngoan and singer Nhat Kim Anh play poet Nguyen Du and Cam in the film Long Thanh Cam Gia Ca
Films, cartoons, and documentaries that have won the Golden Lotus and Silver Lotus, such as Long Thanh Cam Gia Ca (Song of string instrument player in Thang Long), Than Tuong (Idol), Nhung Nguoi Viet Huyen Thoai (the Legend Makers), Xe Dap (Bicycle), Bo Vang (Golden Cow), Khoang Troi (Sky Space), and Co Mot Co Hoi Bi Bo Lo (There is a Missed Opportunity), will be screened at the event.
Canh Dieu Vang (Golden Kite) will be organized by the Vietnamese Cultural Center in France and the Vietnam Cinema Association.