An anthology of Vietnamese poetry entitled "Ha Noi Misses You: An Anthology of Contemporary Vietnamese Poetry" will be hitting the shelves in the US with more than 5,000 copies in print.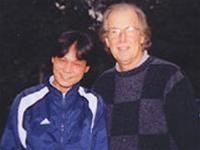 The two translators Nguyen Do (left) and Paul Hoover (right)
The anthology was translated by Paul Hoover, a creative writing instructor, and Nguyen Do, a Vietnamese poet living in Sacramento, California. A reporter of the Thanh Nien Newspaper caught up with poet Nguyen Do to discuss the book.
Reporter: Tell me about how you teamed up with Paul Hoover to translate contemporary Vietnamese poetry as well as the ancient Vietnamese poet Nguyen Trai's poems?
Nguyen Do: When I left Viet Nam to study English in the US, I told my friends that the dream of my life was to translate my poems, my favorite contemporary Vietnamese poetry, Nguyen Trai's poems, and the quintessential poems of classical and modern Viet Nam.
Meeting Paul was really just destiny. I happen to visit his house in San Francisco with my friend, poet Hoang Hung. At that time, I gave Paul some of my poetry written in English. He praised it and edit a little bit so that it was really English. I remember that I told myself: "So now I can fulfill my dream."
After completing the translation of the "Ha Noi Misses You: An Anthology of Contemporary Vietnamese Poetry", we then started translating Nguyen Trai's poems. So far, Paul and I have translated Nguyen Trai's 151 short poems and his famous work Binh Ngo Dai Cao.
What period would you consider contemporary Vietnamese?
I opted for the period starting right after 1945. This is the time when many poets emerged, such as Te Hanh, Tran Dan, Van Cao, Dang Dinh Hung, Hoang Cam, Xuan Quynh, Hoang Hung, Nguyen Khoa Diem, Y Nhi, Thanh Thao, Nguyen Duy and Tran Vu Mai. After them, there also came poets in my generation, including Nguyen Quang Thieu, Nhat Le, Vi Thuy Linh, and me.
Four overseas Vietnamese poets Paul chose as relevant contemporaries include Dinh Linh, Tran Tuong, Mong Lan, and Nguyen Hoa. These are the best overseas Vietnamese poets.
When will the US's readers be able to enjoy the "Hanoi Misses You: An Anthology of Contemporary Vietnamese Poetry"?
Milkweed Editions publisher, based in Minneapolis, Minnesota, has signed a contract with us. The book is expected to be published by 2008. The publisher this year will mount an advertising campaign for the anthology in San Francisco, New York, and Minneapolis.
Paul and I, along with the four overseas Vietnamese are scheduled to appear in events such as book signings. In addition, Milkweed Editions will also invite 4 poets including Thanh Thao, Hoang Hung, Nguyen Duy, and Nhat Le to come from Viet Nam to take part in the events.
Many overseas Vietnamese translators living in the US have said that poetry published in the US sells slowly, let alone translated versions. So what persuaded Milkweed Editions to publish this anthology?
Normally, poetry published in the US is printed in print runs between 500 and 700 copies, even bilingual poems. But actually, some of my American colleagues and I believe that there hasn't ever been such a profound and high-quality translated anthology. Paul Hoover is a very famous poetry editor in the US, as well as a chief author of many high-profile books.
Paul is also a professor of creative writing from the San Francisco State University, and a former professor of poetry from the University of Chicago. Milkweed Editions saw this anthology as a possible supplemental text for student. But in my opinion, they found it interesting and surprising, because there hasn't ever been such an adequate translated anthology.
In addition, last year we sent the "Ha Noi Misses You: An Anthology of Contemporary Vietnamese Poetry" to many prestigious publish houses, including the Otis College of Art and Design in Los Angeles. The college announced two weeks ago that our work had won their publishing prize, and they want to sign a contract with us to publish it. But since we signed with Milkweed Editions, we had to decline. However, the prize still belongs to us, and I'm so happy and proud of that.