MTV Asia (Music Television) has been presented in Viet Nam for ten years, but Viet Nam's cultural presence has always been lacking as the channel is dominated by media from other Asian countries. MTV Asia now has representatives in Viet Nam studying the market in hopes of expanding Viet Nam's presence on the channel and tap into the revenues to be reaped from the young Vietnamese demographic.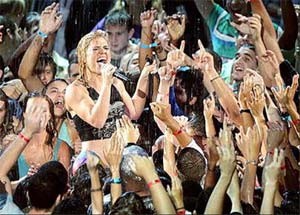 A concert organized by MTV Asia is expected to take place in Viet Nam in the near future. (Photo: MTV)
The channel feels that the Vietnamese audience is a prime demographic to expand to as the country has one of the youngest populations in the world.
More young Vietnamese viewers could mean large advertising revenues for MTV as Viet Nam is increasingly developing, integrating and incorporating itself in to the international economic marketplace and will see a handful of expanding foreign investment in the near future.
Beginning in 2006, MTV will begin bringing more famous Asian singers to Viet Nam for monthly performances and concerts to be held in theaters, stadiums, cinemas, and coffee shops, said Ms. Ngo Thi Bich Hanh, representative of MTV Asia in Viet Nam.
The first in this new series of concerts MTV plans to bring to Viet Nam will be a group of Korean singing stars set to perform in September or October.
As well, many more Vietnamese artists will be featured on MTV Asia in an effort to expose Vietnamese pop culture to music lovers in neighboring countries, giving them their first full chance to appreciate contemporary Vietnamese music.
Many new programs and attached services will be introduced on MTV Asia aiming to bring Vietnamese music lovers closer to MTV.
Along with the new broadcasting plans, MTV Asia also launched a line of Vietcombank-MTV credit cards on July 31 in Ho Chi Minh City.
The cards produced by Vietcombank—Viet Nam's largest State-run foreign trade bank—will offer a range of privileges such as free CDs, collectables, trips to the MTV studio and invitations to MTV award ceremonies.
Related article:
Double trouble MTV jockeys to visit Viet Nam