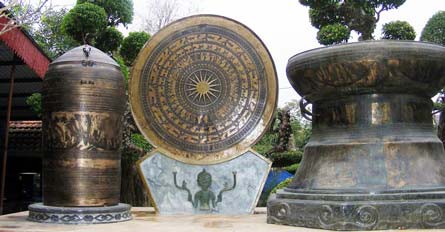 The bronze jar (left) and the bronze drum (right)

The biggest bronze drum and jar in Vietnam have been bought by the Hoang Long private museum in Thanh Hoa Province.
The bronze jar, which is 1.51 meters high and has a diameter of 88 centimeters, is a replica of the Dao Thinh bronze jar.
The replica bronze Ngoc Lu bronze drum is 1.21 meters tall with a diameter at the lip of 1.51 meters, and 1.54 meters at the base.
The bronze drum and bronze jar were made by the artisan Le Van Bay and his partners in Tra Dong Village, Thanh Hoa Province in the traditional style.
The Dao Thinh bronze jar was named after the site in Yen Bai Province where people found various bronze wares belonging to the Dong Son culture. The original stands at 96 centimeters and is decorated with geometric patterns, scenes of daily life, war, animals, birds and boats.
The Ngoc Lu drum is regarded as the most important of the Dong Son drums. The drum was accidentally discovered in 1893 in Ha Nam Province, southeast of Ha Noi. In contrast to most other drums of the Dong Son period, the tympanum bares three concentric panels, which depict animals and humans, interweaved with bands of geometric, or circular patterns.
The innermost panel appears to be a self-referencing, as it is decorated with pictures of humans who appear to be performing a ceremony involving the drums themselves. Other musical instruments and rice growing and harvesting activities are also shown.
The two outer panels are decorated with scenes of deer, hornbills and crane egrets.