Patients at Hue Central Hospital had a chance to enjoy an outdoor concert featuring the American band, Mary McBride, on April 8.
The music concert was one of the events at Hue Festival 2012. The five-member group presented to audiences 10 songs from the 30 more they will be performing during the festival.
Although most patients do not understand English, they were attracted by the sweet and harmonious melodies that helped them forget their pain for a while.
Working as cultural ambassadors for the US State Department, the band has performed at many diplomatic events in countries throughout the world.
Mary McBride, the main singer of the group, has been highly appreciated for her music talent and outstanding contribution to disadvantaged people. She received much praise for her song 'No One's Gonna Love You Like Me', the soundtrack of film director Ang Lee's Academy award winning movie, 'Brokeback Mountain', released in 2005.
Young Vietnamese singer Le Cat Trong Ly also performed her songs at the show.
On the same day, the American band visited and performed at the Thua Thien- Hue Province Teenage and Children Centre and at the Thai Hoa Palace.
Also on the same day, the 'Countryside market festival' opened in Thuy Thanh Ward in Huong Thuy Town in Thua Thien-Hue Province.
The fair includes a series of activities such as a traditional boat race; folk musical performances; folk games; exhibition of agricultural products; and various handicraft products.
A stamp collection of ancient tile bridges including Kim Son in Ninh Binh Province, Chua Thay in Hanoi and Thanh Toan in Thua Thien-Hue Province was presented at the fair.
The 'Countryside market festival' will run until April 10.
At the Hue Festival 2012,  Bac Chung (Big Brass Bell) and Dac Khanh (Big Stone Gong) musical instruments are displayed for the public by the Hue Relics Preservation Centre.

The South Korean National Institute of Traditional Art Performance helped the centre to restore musical instruments that have been lost for one hundred years.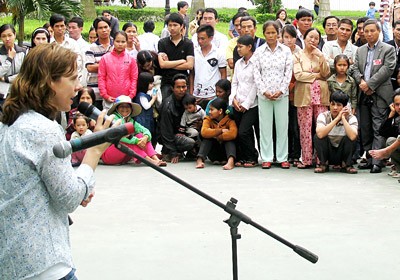 Mary McBride performs at Hue Central Hospital (Photo: SGGP)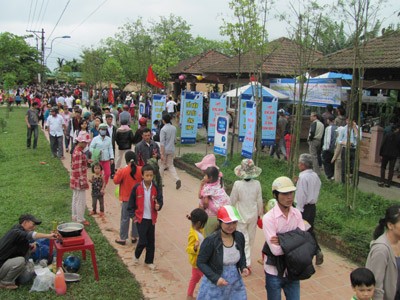 Countryside market festival (Photo: SGGP)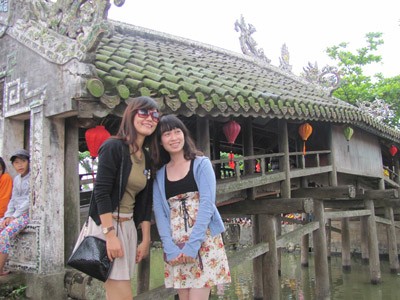 Thanh Toan ancient tile bridge in Hue(Photo: SGGP)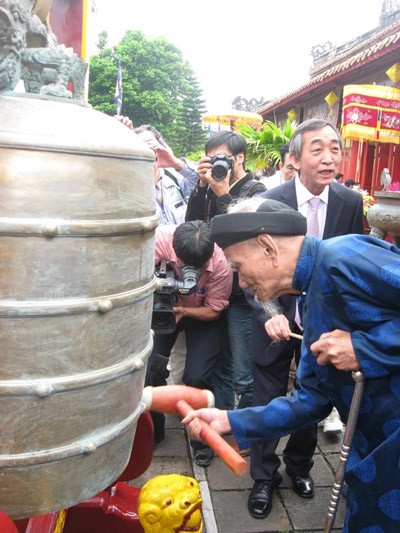 Bac Chung (Big Brass Bell) (Photo: SGGP)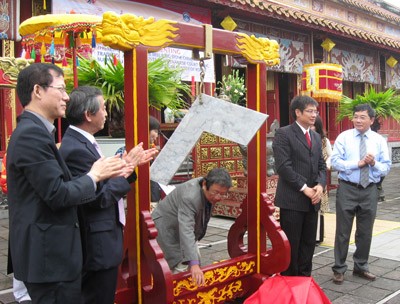 Dac Khanh (Big Stone Gong) (Photo: SGGP)
Related article: