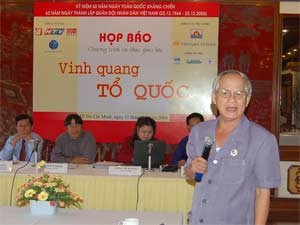 The press coference announcing the musical "Fatherland's Glory".
Organizers at a press conference in Ho Chi Minh City this morning announced the debut of an inspiring new musical entitled "Fatherland's Glory". The musical's debut coincides with celebrations planned for the 62nd birthday of the Viet Nam People's Army as well as Viet Nam's accession to the World Trade Organization and the success of the 2006 APEC summit.
The show, which includes three episodes, will depict the struggle of the Vietnamese people for independence and liberation with such historic milestones as Independence Day and the victory over French forces at Dien Bien Phu.
Well known singers and bands will appear on the show and tickets will be given to war veterans and army officers free of charge.
Organizers of the event include Sai Gon Giai Phong Newspaper, Ho Chi Minh City Television and the International Media Company.