Within the framework of the activities to celebrate the APEC (Asia-Pacific Economic Cooperation) Viet Nam 2006, Nanta Cookin', a kind of Korean art performance using kitchen utensils, will be presented in Ha Noi and Ho Chi Minh City two years after the first successful show.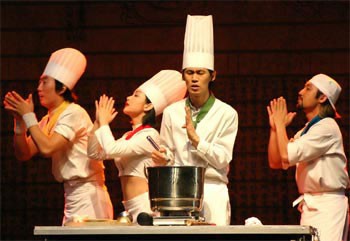 A performance of Nanta Cookin'
Nanta storms on to a stage set up like a huge kitchen where four capricious cooks are preparing a wedding banquet. While cooking, they turn all kinds of kitchen implements- pots, pans, dishes, knives, chopping board, water bottles, even brooms and each other- into percussion instruments.

Nanta Cookin' s mostly non-verbal stage performance integrates traditional Korean percussion tempos with western performance style. It debuted in 1997 and won the hearts of audiences worldwide including Japan, Taiwan, Hong Kong, Australia, the United Kingdom, Germany, and the USA.

Audiences are swept along in the primitive sound explosion and artsists' funny antics on stage. Although the performance is built primarily on captivating rhythms and has very few spoken words, audiences of all ages and nationalities can easily enjoy the plot and drama.


The shows will take place at the Ha Noi Friendship and Culture Palace in Ha Noi on September 2-3 and Phan Dinh Phung Indoor Stadium in Ho Chi Minh City on September 8-9.