The 222nd anniversary of the Ngoc Hoi-Dong Da victory over the Chinese Qing invaders was celebrated nationwide on February 7.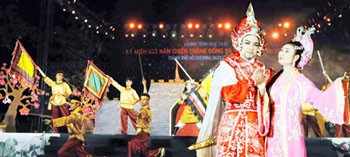 An art performance celebrates Ngoc Hoi-Dong Da Victory in Ho Chi Minh City (Photo: Sggp)
Thousands of people in Hanoi and neighboring provinces on Monday flocked into Dong Da Mound in Hanoi to pay tribute to Emperor Quang Trung- Nguyen Hue who defeated 290 thousands Qing soldiers and brought the peaceful life for the nation in 1789.

In Ho Chi Minh City, the anniversary was celebrated in two separate events with a performance that described the Ngoc Hoi-Dong Da victory and the commemoration of Emperor Quang Trung-Nguyen Hue and a musical show that marked the 11th National Congress of the Communist Party of Vietnam.
The victory of Ngoc Hoi-Dong Da led by national hero Nguyen Hue over the Qing invaders has gone down in the nation's history as an epic struggle for national reconstruction and defense of the fatherland.
As story goes, three brothers from the Tay Son area, Nguyen Nhac, Nguyen Hue (who later became Emperor Quang Trung) and Nguyen Lu formed an army in 1771. The trio became known as the Tay Son brothers ('Tay Son' literally means 'Western Mountains'). They set out to save the country from destruction by revolting against the existing government of the Nguyens in a battle at Quy Nhon and succeeded in annexing a large tract of land from Quy Nhon to the Binh Thuan Province.
The ceremony was attended by Le Thanh Hai, Secretary of the HCM City Party Committee, Duong Quan Ha, HCM City Fatherland Front chairman, together with members of the Ho Chi Minh City Party Committee, People's Armed Forces, Politburo members, representatives of various departments and thousands of local people and visitors.
On the same day, leaders from the central province of Thua Thien-Hue offered incense and flowers to the Statue of Emperor Quang Trung-Nguyen Hue under the Ban Mountain in An Tay Ward, Hue city. It was here that Nguyen Hue was subsequently proclaimed as Emperor of Vietnam and given the name of Quang Trung in 1788.