A peaceful fishing village at dawn or a cherry blossom flower blooming in the spring, many  images of nature have been perfectly captured  in 100 photos for an exhibition, "Bon mua vay goi" (Four seasons beckon), at the HCMC Exhibition House in District 1.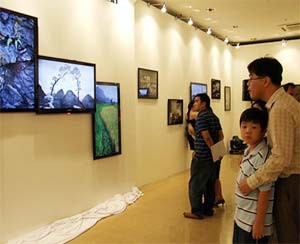 Nhiem's photos on LED displays at HCMC Exhibition House in District 1
The works on display are by photographer Hoang The Nhiem, who has worked in the field for 17 years.
Nhiem also uses the latest technology, LED displays, to show his photos.
"With 3-D technology, viewers can expect and see the photos, and, especially, they can truly feel the feelings at the moment the photographer captured the scenes. The most important thing with IT is the photos become more alive," Nhiem said.
According to Nhiem, all the photos were taken as he passed his way through the central regions and up to the north, like Hoi An, Sapa and Ha Long.
To him, beauty sometimes exists in some simple things, like a small dried tree branch, an old wall or grass in the sandy desert or even a dark sky signaling rain coming soon.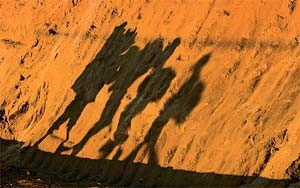 A photo on display at the exhibition
The exhibition will remain open until May 4 before moving to the Hang Bai Gallery in Hanoi, over May 9-15.
Photographer Hoang The Nhiem is a member of the Ho Chi Minh City Photography Association, and a member of the Vietnam Association of Photographic Artists.
He has successfully hosted many exhibitions of his photos, including "Sac mau Sapa" (Colorful Sapa) in 2003 and "Viet Nam toan canh" (An overall picture of Vietnam).
From 2006 to 2009, he has worked with the Lotus Gallery to host photo exhibitions in France, the U.S, Belgium, Switzerland and Singapore.