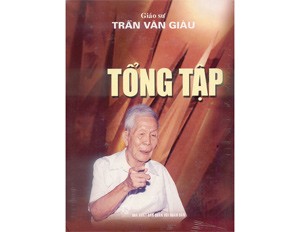 The cover of the series

People's Army Publishing House recently released a series of books not only featuring the life of Professor Tran Van Giau, also author of the series, but also highlighting the history of Viet Nam in the peace and wartime alike.
The 1,879-page memoir by Professor Tran Van Giau features events related to the country's fight for liberation.
The books will present readers with a plethora of real stories about the war between the French colonialists and the people in Viet Nam's southern regions.
Lots of famous heroes and places are praised in numerous historic stories, which would provide readers with lots of amazing discoveries.
The series also stars the patriotism of the people from the north with a large collection of historical events. The author also gave readers a description of the relation between the French government and the King of China (Qing dynasty) at that time.
The author also commented on the victory of Viet Nam over the two biggest nations in the world. The Vietnamese young generations will discover how Viet Nam could defeat such big enemies with the absence of powerful weapons.
The series is published to mark the 95th birthday of Professor Tran Van Giau and celebrate the 60th anniversary of the National Resistance Day (December 19, 1946 - December 19, 2006).