According to Nguyen Van Loi, chairman of the People's Committee of Thanh Hoa Province, the provincial authority is seeking approval for the Ho Dynasty's citadel and the Con Moong cave as UNESCO approved world cultural heritage sights.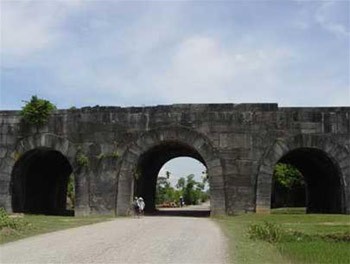 The Ho dynasty's citadel in Thanh Hoa Province
The citadel of the Ho Dynasty was built in 1397 in Vinh Long and Vinh Tien wards, Vinh Loc District. The citadel stretches 3508m in diameter, with a 6m wall constructed of stone. Essential in the creation of a solid wall was the use of a vast quantity of stone cubes measuring 2.2x 1.2x 1.5 meters and weighing 10 tons.
The citadel was classified as a national relic in 1962 and was put under the control of the Thanh Hoa Relics and Landscape Management Board.
Most of the citadel's original statues have been preserved. The only parts to have undergone serious destruction were the interior residential buildings and the royal palace. These have been under constant care to restore and renovate all that has survived.
 
Con Moong cave lies within the limestone mountain along Da River on the right bank of Red River in Cuc Phuong National Park. It is located in Thanh Trung mountain village, Thanh Yen Ward, Thach Thanh District, Thanh Hoa Province.
The beautifully expansive cave covers a depth of 40 meters and is roofed by a 10 meter ceiling. Its stratum thickness is 3-3.2 meters. The cave contained many cultural vestiges of different ages that span from the Old Stone Age to the New Stone Age in Viet Nam.
According to the Viet Nam Institute of Archaeology, the cave's stratification is classified by 3 different layers; the earliest layer dates back 15,000 years, the middle layer 10,000 years, and the surface layer 7,000 years.