The annual 'Nghinh Ong Festival' (Whale Worship Festival) is opening in Can Gio District of Ho Chi Minh City from September 13-17.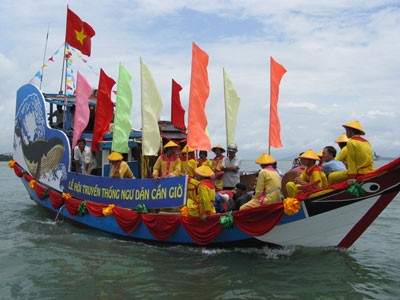 Nghinh Ong Festival (Whale Worship Festival) opens in Can Gio District. (Photo: Sggp)
The annual festival is celebrated on the fifth day of August on the Lunar Calendar with festivities including various rituals to worship the Whale or Ca Ong, and prayers for good seas, happiness and prosperity.

A series of entertainment and cultural activities such as visiting the Rung Sac martyr's cemetery and Memorial dedicated to the battle at Can Gio Post, organizing a traditional ritual at the Lang Ong Thuy Tuong (Whale Shrine), exhibition on Can Gio Mangroves Biosphere Reserve, introduction of Ho Chi Minh City waterway tourism, Tran Huu Trang Cai Luong Theater's art performances will be held during the festival.

The event will have also traditional music performances, a circus performance and folk games, Mid-autumn lantern festival, food fair and more.

The municipal authorities have endeavors to preserve the intangible cultural heritage of the Can Gio 'Nghinh Ong Festival' as well as enhance the quality of the festival which is an opportunity for Can Gio to promote its image and highlight its quintessential traditional features.

The coastal district attracts many visitors to Rung Sac (Sac Forest) listed by UNESCO as the world biosphere reserve in 2001 and the Giong Ca Vo ancient site dating back 2,500-3,000 years.

The Ministry of Culture, Sports and Tourism recognized the annual Nghinh Ong (Whale Worshiping) Festival held in Can Gio District in Ho Chi Minh City as a National Intangible Cultural Heritage in 2013.