An exhibition hall on marine biodiversity of the Truong Sa-Hoang Sa (Paracel and Spratly) islands is being inaugurated in the coastal city of Nha Trang in Khanh Hoa Province.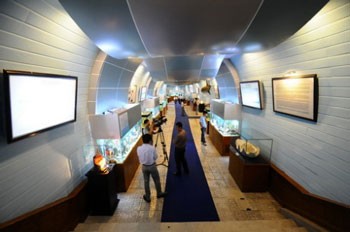 Exhibition hall on marine biodiversity of Truong Sa-Hoang Sa islands. (Photo: Tuoitre)
The exhibition hall is 34 meters in length, 4.5 meters in width and 4.5-6 meters high and located in a tunnel in Bao Dai Mountain.
Exhibits include historical documents, pictures, research papers and other items of Truong Sa (Paracel) and Hoang Sa (Spratly) archipelago islands, collected by the Institute of Oceanography in Nha Trang City.
Visitors will have a chance to enjoy displays of real deep-sea creatures, preserved for scientific research.