HA NOI  (VNS) — The first ever concert to front line oboists will be held in Ha Noi tomorrow. The oboists will perform pieces by international and Vietnamese composers.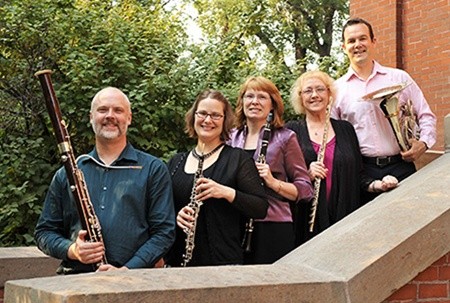 Taking oboe: Keri E. McCarthy (second left) poses with other members of the Washington State University's Solstice Wind Quintet. The American artists will join the oboe ensemble to perform at Manzi tomorrow. — Photo wsu.edu
The highlight of the show would be opening and closing performances by an oboe ensemble which had never held in Ha Noi before, according to Ngo Phuong Dong, deputy head of the Viet Nam National Academy of Music (VNAM)'s Wind Instrument Falcuty.
The oboe ensemble will feature 14 members from the VNAM, the Viet Nam Symphony and Orchestra and the Viet Nam Opera and Ballet, who will play two pieces by French composer Andre Sablon and Viet Nam's Do Kien Cuong.
"The piece Rice Field was recently composed by Cuong for the ensemble, based on Vietnamese folklore," said Dong.
"It is rare for composers to write oboe compositions because they are normally included within an orchestral movement."
The one-night concert will include solo performances featuring pieces by Mozart, Schumann, Marcello and Nguyen Phuc Linh.
Romance, by Nguyen Phuc Linh, represents a conservative interpretation of Vietnamese traditional music. This work follows traditional expectations of a Western-style oboe performance, providing traditional textures between oboe and piano within a modal harmonic context.
The lovely idiomatic writing and melodic phrasing would provide the audience with a whimsical interpretation of modern orientalism, said Dong, who will also join the oboe ensemble.
The piece Romance will be performed by US artist Keri E.McCarthy. Her performance will be accompanied by pianists Van Co and Lam Duc Chinh.
Oboist McCarthy currently performs as co-principle oboist of the Washington - Idaho Symphony and in the Solstice Wind Quintet.
She teaches as Associate Professor of Oboe and Music History at Washington State University. She has also toured Southeast Asia premiering works by Vietnamese, Indonesian, Thai and Malaysian composers in 2008.
The concert will be at 8pm at Manzi Art Space, 14 Phan Huy Ich.