Online book buying is still relatively new in Vietnam and many bookshops who have made this their business are struggling to lure customers into adapting this futuristic and convenient way to shop for books, especially for the very busy.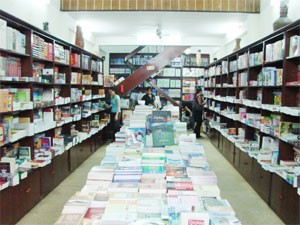 Books bought from online stores reach your very doorstep within a day or so without having to travel around to various bookshops in search for the right one (Photo: Phan Hien)
Undoubtedly, buying books online has its advantages.

Customers can search for books of their choice online, read book reviews and decide at leisure what books they wish to purchase and read.

Books also reach your very doorstep within a day or so without having to travel around to various bookshops in search for the right book. 
Some of the more popular online bookstores like Vinabook.com, Tiki.vn and NhaSachPhuongNam.com offer lots of interesting promotions on purchase of books and almost always offer a 10 per cent discount on most books.
Tiki.vn, the online bookstore set up in March 2010, sometimes offers up to 40 per cent discount on books.

"Offering a huge 40 percent discount on books means the bookstore is hardly making a profit. However, instead of spending money on advertising, the bookstore chooses to use discount methods to lure customers," says Tran Ngoc Thai Son, executive manager of Tiki.vn.

"This goodwill gesture goes a long way to retaining loyalty in customers who will further introduce the bookstore to their friends."
 
All the same, offers of promotions and discounts to customers by online bookstores can also set back profits.

Even Vinabook.com, one of the earliest and also the most famous online bookstore in Vietnam was unable to avoid losses during the first phase of their business from 2005-2009. Amongst the many problems they faced were the considerable overhead costs like initial investments and transport costs.
 
Huynh Ngoc Hung, executive manager of Vinabook.com, says that even those customers having credit card facilities with banks are unaccustomed to paying online and bookstores then face a major inconvenience in recovering payments, besides contending with unscrupulous delivery agents.
The online bookstores are now relying on training their own delivery personnel to ensure more reliability.
 
The online book sales are but 5 percent of the book market sales, despite all efforts of discounts and promotions offered by online bookstores.

Customers have an underlying fear of buying online a product they have not seen visually.
Some online bookstores have lured customers with a 50-60 per cent discount and then selling a pirated copy of a book.

Many established names can also make serious blunders and annoy customers, though stores like  Tiki.vn, usually always compensate their customers by replacing a book, in case of a fault.
Although customers in Vietnam are still unfamiliar with the concept of buying books online, bookstores remain optimistic of the business and see it as a very realistic and futuristic method of buying books and expect consumers' habits to change radically in times to come.