Within the first three days of opening, from April 7-9, Hue Festival had attracted 65,000 tourists, including 30,000 from overseas and boosted hotel capacity by over 87 per cent.
Hue Festival has over the years become a national and international cultural and tourism event, attracting thousands of domestic and foreign visitors and creating vast media curiosity.
In 2010, the Festival received funds amounting to VND10 billion, while in 2012 the funds reached VND17 billion. All these funds for organising the festival came from private businesses and philanthropic individuals, not so much from state funds.
The Festival is a good opportunity for businesses to advertise their profits and develop further profitable commercial contacts.
The "Dem Phuong Dong" (Oriental Night) event, one of the highlights of Hue Festival, staged every night from April 8 to April 14, presents a range of artistic performances of Court music and dance, traditional songs from Hue as well as its cuisine, and exotic royal dishes.
The Oriental Night also harboured the unique cultural values of other countries in the region with a fashion show featuring traditional costumes from Japan, the Republic of Korea, India, Mongolia, Thailand, the Philippines, Laos, Cambodia as well as Vietnam.
The ancient royal palaces in Hue seemed to travel back in time on the evening of April 10, with flags, sparkling candles, lanterns and the aroma of incense in the air, giving visitors a taste of life as a Royal during the Nguyen Dynasty, from 1802-1945.
Beside Oriental Night, the "Dem Hoang Cung" (Royal Night) began on April 10 in the ancient Palace. More than 800 tickets each worth VND 600,000 had been sold out.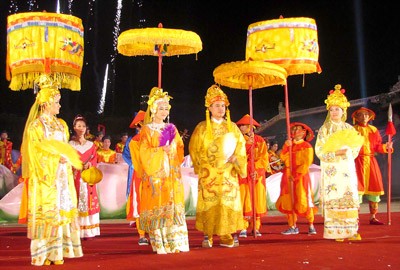 Royal costumes on display during Royal Night
Visitors not only were enjoying the Vietnamese royal food but also managed to take part in some of the scenes, such as the princess's procession and the changing of the guards' ceremony.
They also enjoyed watching the performances "Princess returning home", "Memoir of the female servant".
Earlier that day, the first international drum and percussion instrument festival gathered together hundreds of Bronze and Royal drummers, the Tay Son war drum group and musicians playing Tay Nguyen gongs.
Also as a part of the Hue Festival, there are performances by 40 art troupes from Vietnam and 28 other countries and territories.
An exhibition of photographs is being held at the Royal Palace, with 29 photos of Hue by Vietnamese photographer Dao Hoa Nu and 60 more focusing on Vietnam, its countryside and its people, by Japanese photographer Teruyo Iwahiro.