Dozens of singers and musicians will perform the works of late songwriter Trinh Cong Son at a free outdoor concert in praise of love and friendship in Ho Chi Minh City on April 5.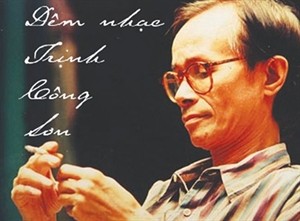 A series of concerts in HCM City and Da Nang will pay tribute to famous composer Trinh Cong Son next month.
Pop stars Cam Van, Thanh Lam and Hong Nhung will sing before an expected audience of 30,000 at the Semicircle Lake Park in District 7's Phu My Hung Urban Area.
Joining the show, called Nhung Som Mai Viet Nam (Mornings Vietnam), are young singers Dinh Huong and Hoang Quyen will appear with veterans Tung Duong, Duc Tuan and Viet Thanh.
Famous saxophonists Tran Manh Tuan and An Tran will also be on hand.
The event is organised by Son's younger sister, singer Trinh Vinh Trinh.
Working with Thanh Nien Communication Group and Le Bros, Trinh said the show would be a special experience.
Son's popular works, including Ru Tinh (Lullaby to Love), Mot Coi Di Ve ( A Place to Return), Hue-Saigon-Hanoi and Noi Vong Tay Lon (Joining Hands for Solidarity), will all be performed.
A highlight of the evening will be the performance of songs Son wrote specifically praising the country, Chieu Tren Que Huong Toi (Afternoon in My Country) and Mot Buoi Sang Mua Xuan (A Spring Morning).
Both songs will be sung by Huong and Quyen, who are big fans of Son.
A group of children, who took part in the reality TV singing show Giong Hat Viet Nhi 2013 (The Voice Kids) produced by Viet Nam Television, have been invited to perform.
Saxophonist Tuan, who performed Son's music many times in Vietnam and other countries, said: "I enjoy Son and his songs because I have found that Son's music is similar to the jazz that I have been involved with. Through his works, I can find new passion and materials to improve my skills."
Tuan has worked hard to introduce Son and his music to the world.
Trinh said she and her staff were looking forward to the performance.
"I know Ho Chi Minh City audiences love Son's music. I hope that our show will make an impression on Son's fans."
Earlier, on April 1, a musical performance, Gac Trinh (Trinh's Apartment), will be held in Da Nang to honour the memory of the late musician who died 13 years ago.
Well-known vocalists, including Cam Van, Duc Tuan, Le Hieu and Anh Ha will perform. Other segments will be presented by the Nam Dong Ke (Five Line) Band and Hue-based National Music Academy and Boom Dancers group.