A painting exhibition called "Companion of Chair and Wind" by Siu Pham and Jean-Luc Mello opened at Tu Do Gallery in District 1, Ho Chi Minh City.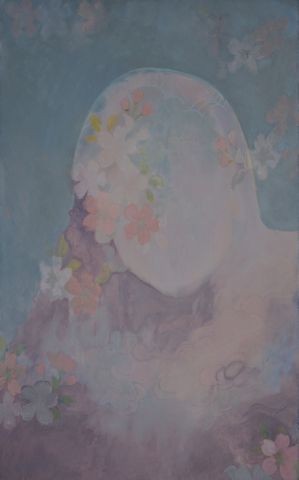 A painting by Siu Pham
Siu Pham, also known as Nguyen Thi Nhung, and her husband Jean-Luc Mello currently lives and work in Hoi An.
She studied at Gia Dinh Fine Arts College, currently known as Ho Chi Minh City Fine Arts University, and art history, French, and literature at Geneva University in France.
Siu Pham's paintings were exhibited in Geneva, Lausanne, Berne, Paris, Saint-Julien, Washington DC and Ho Chi Minh City.
She worked as theater director and playwright in Geneva and Lausanne between 1997 and 2008. She is a member of the Author Association in Switzerland – SSA, also known as Société Suisse des Auteurs. Siu Pham won an award for feature film at International Film Festival in Locarno, Switzerland in 2002.
Italian-Swiss pianist Jean-luc Mello has lived and worked in Vietnam for 5 years.
Siu Pham and Jean-Luc Mello have also made several popular films about Vietnam.
The event will run until April 29.