Artworks of Cuban painters William Hernandez Silva and Fabian Munoz Diaz will be exhibited at the Ho Chi Minh City University of Fine Arts from December 2 to 12.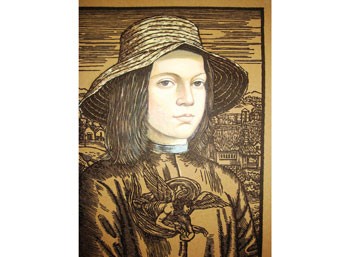 An artwork by William Hernandez Silva on the display.
The event is being held to mark the Cuban Revolution's 50th Anniversary on January 1 and the 48th anniversary of Vietnam-Cuba diplomatic relations.
"These artists represent Cuban contemporary fine arts. Their 34 paintings, including 28 graphical and 16 oil artworks, will introduce Vietnamese audience to advanced paintings that capture the culture of South America," said Mr. Nguyen Van Minh, a teacher at the Ho Chi Minh City University of Fine Arts.
The painters will also give a lecture to teachers and students of the HCMC University of Fine Arts.
Two painters are members of the Association of Cuban Writers and Artists. They have been involved in dozens of exhibitions at home and abroad and their artwork has been displayed at museums in several countries.
The exhibition gives Vietnamese people a chance to learn about the land and revolutionary spirit of the Cuban people.
The exhibition was organized by the Vietnam Union of Friendship Organizations and the Vietnam-Cuba Friendship Association.