Images of simple rural lives and women in the countryside in olden days are on display at a painting exhibition titled "Poetry and painting" that is being held to raise funds for disadvantaged patients in Ho Chi Minh City.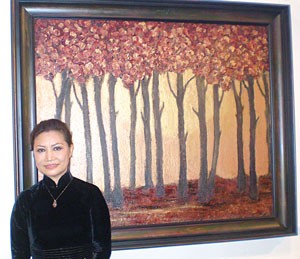 Painter Bich Nguyet and her artwork at the exhibition.
Bich Nguyet's dark colors evoke warm and peaceful feelings in the viewer.
Ms. Nguyet, a member of the Ho Chi Minh City Fine Arts Association, is also presenting to visitors her poetry book titled "Moon".
The exhibition is on at 2B Le Duan Street, District 1.