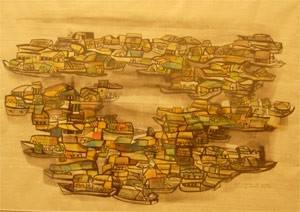 Manuel D.Baldemor 's painting "Vinh Long floating market" (Photo: KK)
A painting exhibition of Manuel D.Baldemor themed "Philippines-Viet Nam: Cultural Heritage" took place at the Ho Chi Minh City Museum of Fine Arts on August 1-5 to celebrate the 30th anniversary of the establishment of the Philippines-Viet Nam diplomatic relations.
Viet Nam's landscapes of Ha Noi, Ha Long bay, Hoi An ancient streets, Vinh Long floating market and Vietnamese people's daily activities and the Philippines' traditional festivals including Baptise, harvest time and Muslim ceremonial dance, etc were depicted in more than 100 paintings.

These paintings were also considered messages of the culture, land and people of the Philippines and Viet Nam.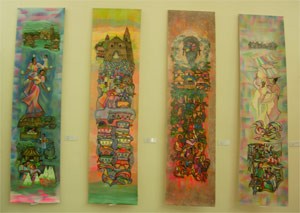 Manuel D.Baldemor 's four paintings depicted Filipino traditional festivals and dances (Photo: KK)
Manuel D.Baldemor is a painter, sculptor, printmaker, writer and book illustrator. He won the Grand Prize Award in the painting competition of the Art Association of the Philippines and represented his country in Paris.

He has held numerous one-man exhibits in museums and galleries in the Philippines and cities around the world including Seoul, Beijing, Cairo, Tehran, Berlin, Budapest, Madrid, Vienna, Moscow, New York, etc. Reproduction of his works adorns UNICEF greeting cards which are distributed worldwide.

Another exhibition was organized in the Museum of Fine Arts in Ha Noi.