A photo exhibition to celebrate international woman's day is being held at the Ho Chi Minh City Youth Cultural House in District 1.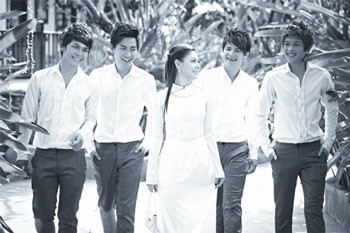 A photo of the V.music band and singer Thanh Thao is displayed.
The exhibition features 100 pictures of  beautiful and happy smiling Vietnamese women including famous personalities like  Mai Phuong Thuy, Miss Vietnam 2006, Thuy Dung, Miss Vietnam 2008, Ngoc Han, Miss Vietnam 2010, Huong Giang, Miss Grand Slam Asia 2009, Diem Huong, Miss Vietnam World 2010, Duong My Linh, Miss Photo Viet Nam 2006, models Anh Thu, Ngoc Thach, Ngoc Quyen and Truong Thi May; singers Ho Ngoc Ha, Phuong Thanh, Thanh Thao, Doan Trang, Ho Quynh Huong, Minh Hang and Thuy Tien.

All the above beauties wear white ao dai designed by Viet Hung, Thuan Viet, Ngo Nhat Huy, ABC and Tuan Tran.

The collection of photos was being compiled since last October by 11 photographers including Ly Vo Phu Hung, Quoc Huy, Nguyen Long, Ray Moon, Louis Wu, Pro-K, KK Vuong Dinh and Ngo Nhat Huy.
The exhibition titled "Beautiful Vietnam" is being co-organized by the V. music band and HCM City Youth Cultural House.

The display is part of the V. music band's "Vietnam's new day" project to mark Woman's Day (March 8) and will run until March 12.