A photographic contest aiming to highlight the history and diversity of the Vietnamese family began receiving submissions June 8, organizers said.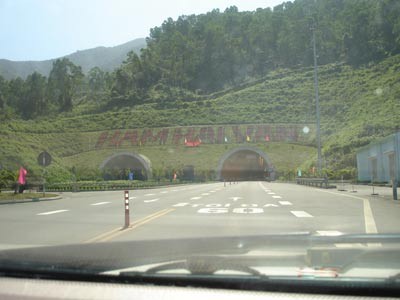 The road to Hai Van Tunnel, the longest tunnel in Southeast Asia on highway 1 between the two cities of Danang and Hue in central Vietnam ( Photo: U. Phuong)
The Directorate of Family and the Department of Tourism, Fine Art, Photograph and exhibitions at the Ministry of Culture, Sports and Tourism have called for submissions to the contest that illustrate the differences and similarities between Vietnamese families in the past and present. The theme is Vietnam's socio-economic development and growth.
Organizers said the contest aimed to create awareness of the contributions the community can make towards maintaining and developing good family values in Vietnam.
The Vietnam's Journalists Association and Roads of Vietnam Magazine also began receiving submissions for their new photo contest on June 8.
The competition, titled "Roads of Vietnam," is open to amateur and profession photographers from Vietnam, and calls on artists and photojournalists to submit their best shots of roads or roads under construction in Vietnam.
Entries must arrive at 59 Ly Thai To Street, Hoan Kiem District, Ha Noi no later than July 15, 2010.