The Phu Nhuan Classical Guitar Club will organize a special guitar concert titled "Guitar Ensemble" at the Phu Nhuan District Culture Center, 70-72 Nguyen Van Troi Street in Ho Chi Minh City at 8 pm on June 21.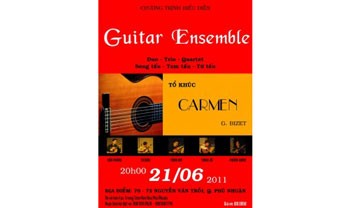 x
The concert will present to music lovers masterpieces by F.Sor, E.Granados, E.Nazareth, J.Bandolim, R.Gnattali and G.Bizet/W.Kanengiser - Carmen Suite.
Guitarists Tran Hoai Phuong, Nguyen Tri Doan, Nguyen Thanh Huy, Pham Thanh Loc and Tran Phuong Quang will take part in the concert.
Tickets priced at VND100, 000 are available at Phu Nhuan Culture Center.