Young people feel no constrains and adopt classical music naturally, spoke pianist Bich Tra during a talk on "Classical music and young people" at the Saturday Café in Ho Chi Minh City on July 31.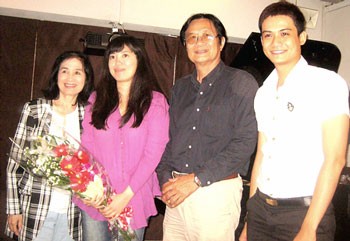 Actress Ha Giang (L), pianist Tra Giang (L, 2nd), musicians Duong Thu and singer Hai Dang (R). (Photo: Sggp)
The pianist said that children in foreign countries are introduced to classical music quite early in life, while Vietnamese people give no importance to it.
Being able to enjoy classical music depends on an individual's taste and state of mind, she added.
Tra practices regularly and daily. She often spends more than 16 hours practicing. She reads on the lives, careers and times of composers to go deeper into the knowledge of music.
Classical music has helped the pianist to display her talent, having achieved recognition by way of both local and international music awards. She believes that music opens new horizons for people.
The talk was attended by musicians Duong Thu, Duy Linh, singer Hai Dang and actress Ha Giang.
On August 5, at the Ho Chi Minh City Conservatory of Music, Tra  performed a concert titled "Piano & voice" accompanied by tenor Nguyen Hai Dang.

The two artists presented to music lovers masterpieces from famous composers such as Schubert, Schumann, Joachim Raff, Frederic Chopin and Mozart.
Pianist Bich Tra is the daughter of movie star Tra Giang and Professor Bich Ngoc. After leaving the Russian Tchaikovsky Institute of Music with a master's degree, she continued her studies at the British Royal Music Academy. She graduated with the highest marks, earning the Walter MacFarren Award for best student. In 2000, Bich Tra won first prize at an international piano contest, 'Brant in UK'.
She has performed in many countries like Russia, Poland, Germany, Norway, Spain, Italy, UK and the USA.
She was chosen as the "Ten most influential Youth of Vietnam" in 2002. Tra is currently living and working in London.

Her recent orchestra recording debut of romantic Swiss-German composer Joachim Raff's Suite has been well received with superlative reviews and was chosen as Album of the Week by The Independent in March 2010.

In 2011, Tra will be recording three CDs of Joachim Raff's piano music with Naxos.