The Southern Women's Museum in Ho Chi Minh City and Japan's Chihiro Art Museum Azumino released books containing paintings by the late Japanese artist Chihiro Iwasaki last week.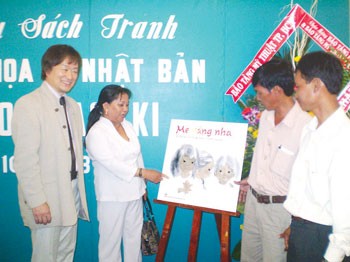 Mr.Yuko Takesaco (L) and heroic Ut Tich's daughter and sons
The books, published in Vietnamese for the first time by Women Publishing House, include works like Children in the Flames of War and Our Mother is Not At Home (Khi Me Vang Nha) that were based on the war.
Our Mother is Not At Home (Khi Me Vang Nha) was inspired by the true story written by Nguyen Dinh Thi, a famous Vietnamese writer, about the heroic Nguyen Thu Ut (Ut Tich) and her children.
The opening ceremony of the release function was attended by Yuko Takesaco, son of Ms. Iwasaki, Ut Tich's sons Lam Thanh Hien and Lam Thanh Hung and daughter Lam Thi My Thanh. Ut Tich's three children also feature in the story.
Ms. Iwasaki was born in 1918 in Takefu, Fukui Prefecture, and moved to Tokyo the next year. She began to study sketching and oil painting at the age of 14 and Japanese calligraphy at 18. She drew more than 9,000 paintings about children and flowers, all containing the message of love, peace, and anti-war.
She joined the Japan Communist Party in 1946. In 1973 she was diagnosed with liver cancer and died in 1974.
To commemorate her achievements, the Chihiro Art Museum was built beneath her studio in Tokyo. Mr. Takesaco is its director.